Resources
On this page you will find our archive of presentations and video recording from our previous seminars. The recordings have been cropped to exclude plenary discussions in which members of the networks share their experiences and create knowlegde together.
Promising practices in child protection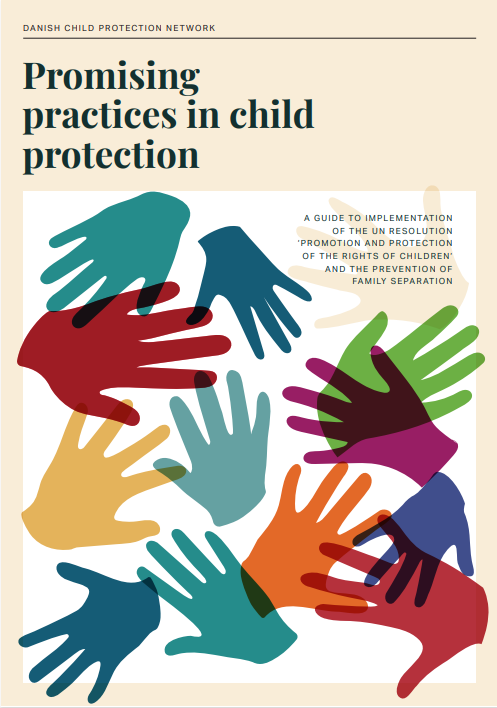 Welcome to our comprehensive e-book on Child Protection Strategies – Promising practices in Child Protection.
Download the learning resource here
As parents, caregivers, and educators, our primary responsibility is to keep children safe and protected from harm. However, it's not always easy to identify potential threats or know how to respond appropriately. This e-book is designed to equip you with the knowledge and tools necessary to safeguard the children in your care. It covers a range of topics, from recognizing signs of abuse and neglect to creating a safe and nurturing environment for children to grow and thrive.
The Child Protection Network of Denmark has throughout its sessions brought together a team of experts in child protection who have shared their insights, experiences, and practical tips to outline the issues and challenges of child protection globally. This manual contains those insights and can be will provide you with valuable information to ensure that you have a holistic understanding of child safety efforts in primarily the global south.
We hope you find this e-book informative and useful in your efforts to promote child safety and wellbeing.
Key documents:
The following documents are the basis for the cross-cutting principles that we seek to spread awareness of.
Other relevant papers:
Presentation and video materiel from past seminars
Presentations from the 04 March 2021 Seminar
"The Right of Every Child to Care":
Presentations from the 04 May 2021 Seminar
"Children Affected by Domestic Violence":
Presentations from the 26th August 2021 Seminar
"Children On the Move":
Presentations from the 11th November 2021 Seminar
"Volunterism and child seperation":
Presentations from the 23th February 2022 Seminar
"Education and alternative care":
Presentations from the 23rd March 2022 Seminar
"The role of faith-based actors in the protection of children deprived of parental care":
Presentations from the 20th of May 2022 Seminar
"Exploring Preventative Strategies"
Presentations from the 19th of September 2022 Seminar
"Climate Change and Child Protection"
External resources
Herman Laws is a U.S based law firm who have created an extensive guide to understanding and helping children subject to abuse.
https://hermanlaw.com/child-sex-abuse/
Childhelpline international: Starting out as a hotline for children who found themselves in need of care and attentivesness, Childhelpline international is now is a leading collective impact organization that compiles know-how for use in caring for children.
https://www.childhelplineinternational.org